Main content starts here, tab to start navigating
Alaskan Events & Catering Menus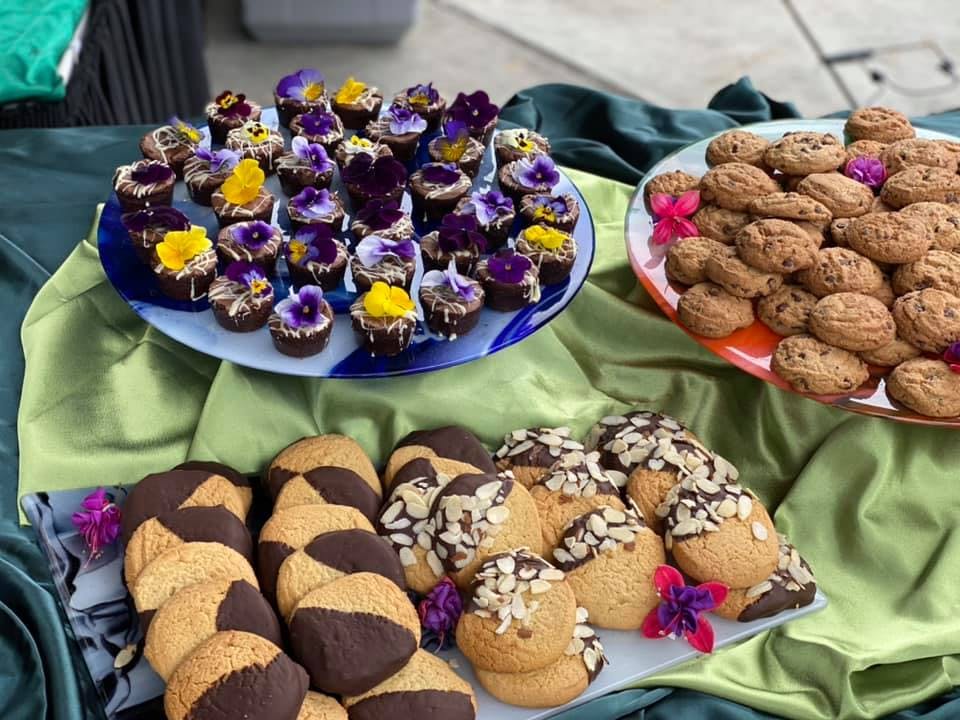 Slide 1 of 4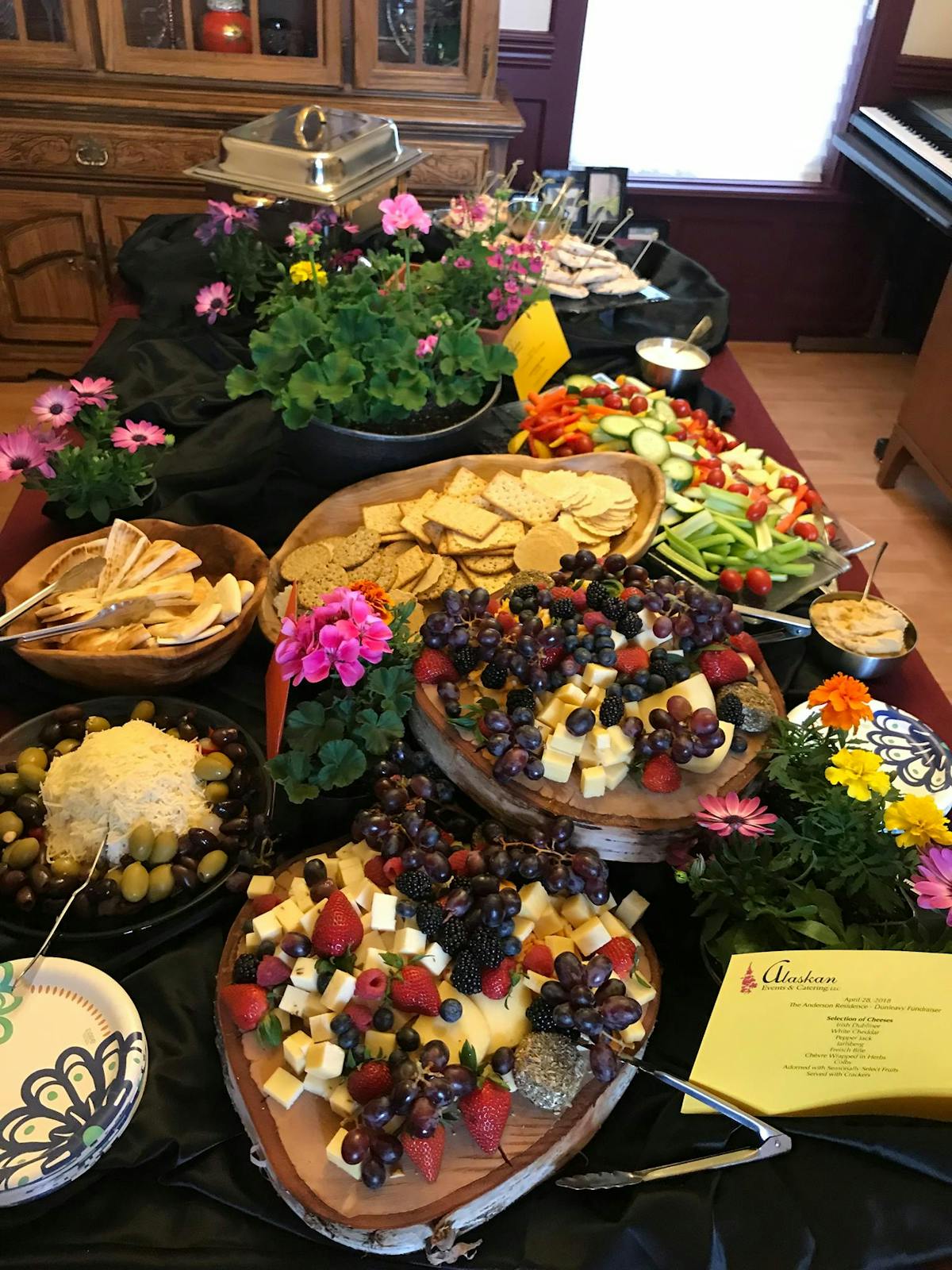 Slide 2 of 4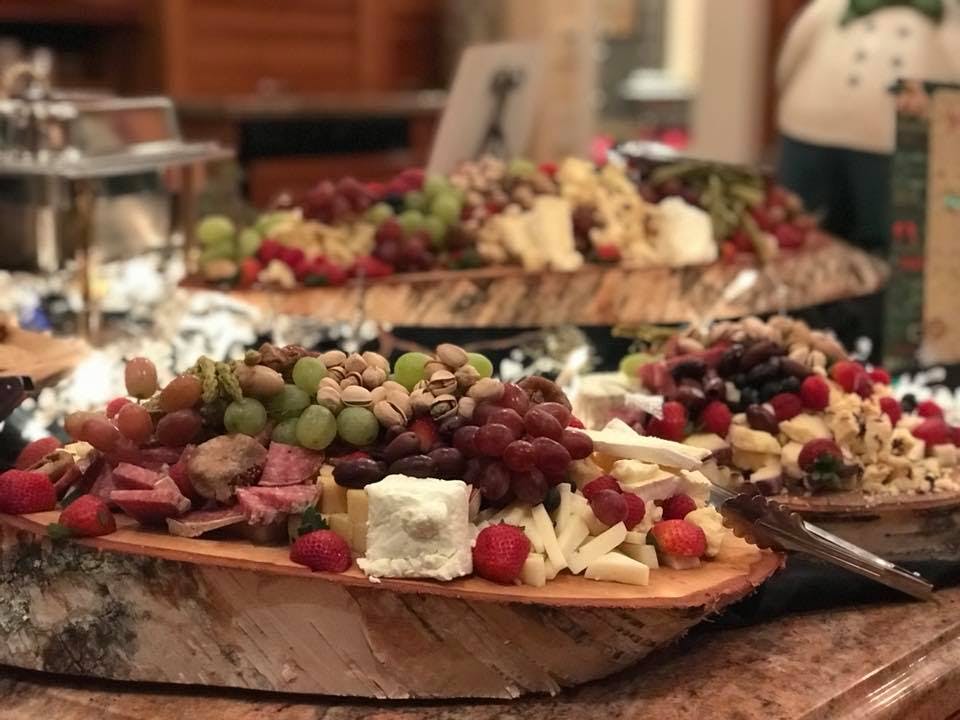 Slide 3 of 4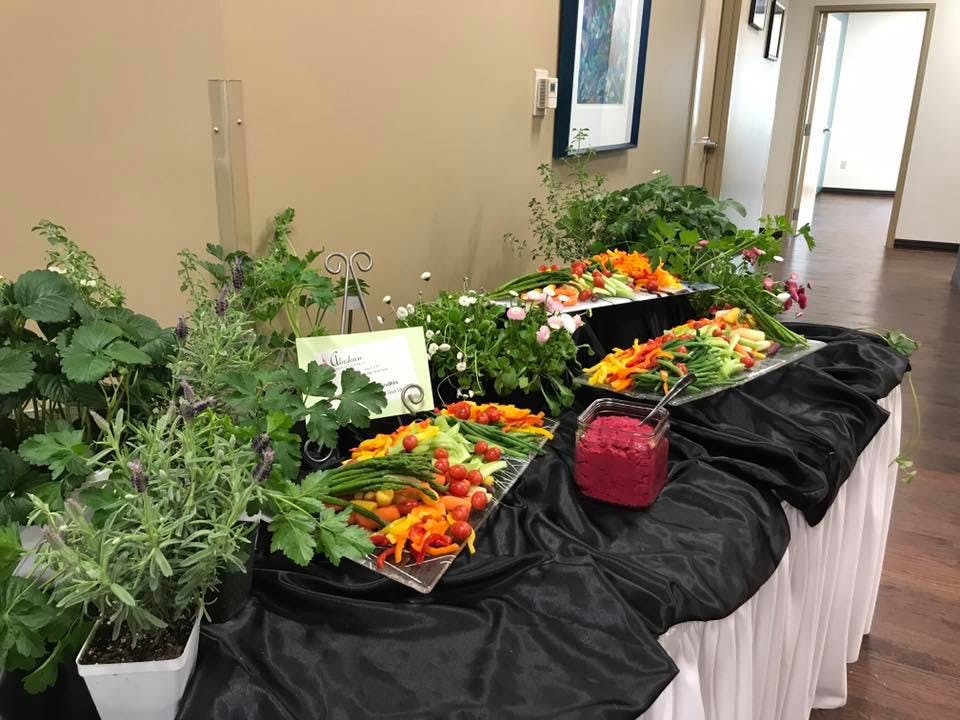 Slide 4 of 4
Brunch
The Continental

Assorted Breakfast Pastries & Muffins or Breads, Seasonal Fruits, Yogurts, Selection of Assorted Juices

The European Continental

Hard Boiled Eggs, Sliced Meats including Italian Prosciutto, Salami, Parma Ham, Sliced Assorted Cheeses, Breakfast Muffins & Pastries, Seasonal Fruit Tray

Hearty Denali

Western Omelets, Au Gratin Potatoes, Alaskan Reindeer Sausage, Spiral Ham in Bourbon Orange Sauce, Fresh Fruits, Assorted Pastries & Breads, Assorted Juices

The Alaskan Continental

Alaskan Smoked Salmon Lox, Cream Cheese & Bagels, Breakfast Muffins & Pastries, Assorted Juices, Seasonal Fruit Salad

On The Go

Scrambled Eggs, Sausages, Breakfast Potatoes, Assorted Breakfast Pastries & Fresh Fruits

Sunrise Breakfast

Assorted Quiche, Carved Ham with Orange Bourbon Maple Glaze, Au Gratin Potatoes, Assorted Breakfast Pastries & Fresh Fruits

Serviced Breakfast Station

Omelets & Waffles Made to Order with all accompaniments; menus are tailored to the clients' requests. Required facilities, services and staffing determined by location and venue.

Gourmet Hot Beverage Station

Imported Coffee, Assorted Teas, Hot Cider, Hot Chocolate, Lemons, Sugars & Sweeteners, Creamers, Whipped Cream, Chocolate Shavings, Liquor Flavours, Cinnamon Sticks

Other Choices

Bottled Water, Fruit Nectars, Fresh Squeezed Orange Juice, Apple Cider, Hot Spiced Wines
Lunch
AE&C Signature Lunch

Fresh Baby Greens, Our Own Strawberry-Balsamic House Vinaigrette, Gorgonzola Crumbles & Candied Pecans

California Style Chicken on Croissant

Kettle Style Potato Chips

Tex-Mex Wrappin'

South Western Style Chicken & Pepper Jack in Tortilla Wraps

With Chipotle Ranch Sauce

Traditional Texas Slaw & Jalapeno Flavoured Chips

A Grecian Discovery

Hearts of Romaine, Tossed with Kalamata, Cherry Toms, Artichokes & Feta with Lemon Thyme Vinaigrette Dressing

Pita Wrap of Beef, Red Onion, Fresh Tomato & Tzatziki Sauce

Sea Salt & Vinegar Chips

Vegetarian Delight

Avocado, Spicy Sprouts, Romaine, Tomato, Shredded Carrot, Red Onion Shavings on Croissant, Sour Cream & Dill Pickle Salad, Kettle Style Chips

Mediterranean Secret

Skewered Kabobs of Marinated Beef

Pesto & Sun Dried Tomato Orzo Pasta Salad

Marinated Grilled Vegetables & Sea Salt & Vinegar Chips

All American

Roast Beef with Horseradish Sauce & Monterrey Cheese, Lettuce & Tomato on Kaiser Rolls

Tortellini Pasta Salad, Kettle Style Chips

Turkey with a Twist

Turkey & Muffuletta on Sourdough Baguettes

Classic Style Potato Salad & Dill Pickles

Kettle Style Chips

Asian Creation

Fresh Thai Spring Rolls with Chili Dipping Sauce

Toss of Assorted Asian Slaw in Ginger-Wasabi Vinaigrette Dressing with Pineapple, Mango & Cashews

Grilled Breast of Chicken in Sesame Linguine with Miso Sauce

**Allergy note, menu item does contain soy

Seasoned Skewers

Flavor is imparted in the wooden skewer itself – choose from the following: chef will pair with appropriate salads

Hickory

Garlic

Ginger Mango

Thai Coconut Lime

Indian Mango Curry – HOT!

Skewered with your choice of beef, chicken, shrimp, scallops or lobster; priced accordingly

Salad

Pesto Chicken

Pesto Grilled Breast of Chicken with Romaine, Hot House Tomatoes, Avocado Laced with Bacon on Cibiata Bread

Traditional Caesar Salad & Alaskan Thunder Chips

Create your own salad suggestions

Baby Greens with Strawberry-Balsamic Vinaigrette, Gorgonzola Cheese Crumbles & Candied Pecans

Hearts of Romaine Tossed in Roasted Tomato Shallot Vinaigrette with Spanish Manchego Cheese, Pine nuts and Cherry Tomatoes

Spinach Salad with Grilled Chicken and Roasted Potatoes with shallot Snips, Tomato and Honey Pommery Mustard Dressing

Grilled Shrimp Caesar Salad with Romaine Hearts and a Black Pepper Parmesan Chip

Smoked Salmon Salad with Mixed Greens, Shallot Snips and a Sherry Vinaigrette

Caprese Salad with Plum Tomatoes and Red Onion Marinated in Olive Oil and Garlic, Layered with Buffalo Mozzarella and fresh Basil Leaves over a Bed or Romaine

Vegetarian with Grilled Eggplant, Roasted Peppers, Red Onions, Marinated Tomatoes and Black Olive Tapanade

Tuna Nicoise with Grilled Tuna, Mixed Greens, Black Olives and Egg in Balsamic Vinaigrette

Cobb Salad with Chicken, Avocado, Crumbled Bacon with a Maytag Blue Cheese Dressing

Roquefort Salad with Boston Lettuce, Belgian Endive, Watercress, Croutons, Bacon and Roquefort Dressing

Antipasto with Prosciutto, Cappicola, Marinated Olives, Roasted Peppers, Sharp Italian Cheese and Mozzarella over Romaine Lettuce Served with Olive Oil and Balsamic Vinegar

Alternate Salads

Tuscan Penne Pasta with Sun Blushed Tomatoes, Basil Pesto, Parmesan Cheese & Pine Nuts in Balsamic Vinaigrette

Baby Red Potato Salad with Sour Cream and Fresh Dill Herbs

Savoury Greek – Pasta with Fresh Cucumber, Cherry Tomatoes, Kalamata Olives, Feta Cheese and Dark Balsamic Vinaigrette

Northern Italian – Basil, Olive Oil, Cherry Tomato, Lemon Zest tossed in Lemon Thyme Vinaigrette & Fleur d Saul

Middle Eastern Cous-Cous Tossed in Tahini, Lemon, and Mixed Herbs

Thai Style with Hearts of Romaine, Fresh Basil, Scallions, Coconut Lime Dressing

Grilled Shrimp on top of Chilled Soba Noodles with a Watercress & Pepper Salad and Sweet n' Sour Vinaigrette

Soups

Tomato Bisque with Choice of Ravioli – Roasted Chicken & Rosemary or Marscarpone/Artichoke

Classic Chicken Noodle with Mirepoix Vegetables and Seasoned with Bay & Thyme

Beef and Barley with inter Vegetables and Herbs d' Provence & Asiago Cheese

Tom Yum Kai – Spicy Thai Soup with Chicken, Basil, Vegetables & Straw Mushrooms

Summer Soup Gazpacho of Cucumber and Tomato, Slightly Spicy – served cool!

Sandwiches

Roast Sirloin with Peppercorn Horseradish Sauce, Sprouts and Havarti cheese

Cobb Smoked Turkey Wrap Breast with Cranberry and Sage Stuffing

Orange Honey Roasted Ham with Coleslaw, Honey Mustard and Danish Emmentaler Cheese

Grilled Chicken with Watercress, Sliced Apples and Walnut-Chive Mayonnaise

Vegetarian with Grilled Eggplant, Roasted Peppers, Red Onions, Marinated Tomatoes and Black Olive Tapanade

Old Fashioned Tuna Sub, Chunk White Tuna Salad with Lettuce, Tomato, and Onion

Wraps

Californian

Fresh Turkey, Avocado, Tomato in a Bacon Cream Cheese Spread

Veggie

Grilled Eggplant, Peppers, Red Onion, Sprouts and Tomatoes with Olive Tapenade

Alaskan

Smoked Salmon with Romaine, Arugula, Lettuce, Tomato, & Onion with Scallion Cream Cheese

Italiano

Prosciutto, Cappicola, Provolone, Lettuce, Tomato & Onion Drizzled with Basil Olive Oil

Chicken Salad

Poached Chicken Breast with Scallions, Celery and Walnuts, in Creamy Dressing

South Western

Black Beans, Peppers, and Spicy Rice, Topped with Jack Cheese in a Garlic Tortilla

Lo-Cal Crunch

Vegetable Tortilla with Lettuce, Cottage Cheese, Peppers, Carrots, Onion and Fresh Basil

Middle Eastern

Humus and Tabouli with Chopped Spinach, Tomato and Olive Oil

Chicken Caesar

Romaine, Grilled Chicken, Garlic Croutons and Caesar Parmesan Dressing
Appetizers
Alaskan

Smoked Salmon Lox

Alaska smoked salmon served with miniature bagels, dill, capers and red onions

Shrimp Cocktail

Fresh peeled shrimp served with cocktail sauce and lemons

Reindeer Sausage Tray

Alaskan Reindeer Sausage, mild & medium, served with Honey Mustard and Dijon Pommery Sauces

Reindeer Sausage Encroute

Reindeer sausage baked in light, flaky, puff pastry and served with Dijon mustard

(Max of 50 guests, requires ovens on the premises)

Crab & Artichoke Dip

A rich blend of crabmeat, artichokes, Parmigiano-Reggiano and cream cheese, served hot with baguettes

Smoked Salmon Mousse

Smoked Alaskan salmon combined with fresh dill and cream cheese, displayed on a bed of savoury red onions and capers, served with crackers

Seafood Martini

A selection of shrimp, scallops & crab, tossed in savoury flavours and served in a martini glass

Market Price

Crab Stuffed Mushrooms

A blend of crab meat, fresh herbs and cheeses stuffed in a large mushroom cap and baked, served hot (Maximum of 100 people)

Crab Legs & Claws

Served with fresh lemon and cocktail sauce over butter

Market Price

Mediterranean

Savoury Cheesecake

Made with sun dried tomatoes and basil pesto - this savoury style cheesecake is unique to our company

Served with crackers

Assorted Tarts & Phyllo Pastries

Sicilian Puff Rolls; Brie & Apricot Rosemary Puffs; Caramelized Onion, Fig & Chèvre; Mini Quiche, Spanikopita

Caprese Bruchetta

Toasted baguettes served with fresh mozzarella, tomato, basil drizzled with reduction of dark balsamic

Marinara Meatballs

Meatballs served in a marinara sauce with fresh basil and the original Parmigiano - Reggiano cheese

Italian Skewers

Individual skewers of fresh mozzarella, Kalamata olive, sun-blushed tomato & artichoke

Rosemary & Lemon

Chicken skewers

Spanikopita Pastries

Authentic Greek Style Pastries with spinach & feta cheese, wrapped in Phyllo dough

Greek Hummus

House Recipe - served with pita chips

** Denotes allergy alert; Contains soy

Thai / Asian Based

**Chinese Take Boxes

Beef or Chicken in Soba Noodles, mixed with Asian Vegetables and tossed in a Soy Ginger sauce. Served in the Mandarin Box with chopsticks ! A fun presentation and delicious salad!

Thai Style Shrimp Cocktail

Marinated in garlic, cilantro & imported vinegars, served with chili dipping sauce

Thai Spring Rolls

Wrapped in rice paper, with fresh shrimp, cilantro, romaine & bean threads and served with chili dipping sauce

Korean BBQ Short Ribs

Bite size short ribs marinated in soy and ginger and served with scallions and sesame seeds, served warm

Chicken Satay

Skewered chicken in a Thai style marinade, with spicy chili peanut sauce - served warm

**Denotes Allergy alert; Contains peanuts!!

Steamed Pot Stickers

Chinese dumplings filled with pork, scallions and spices served with a soy dipping sauce

Sweet & Sour Meatballs

Bite size meatballs skewered with sweet pineapple and savoury peppers, marinated and served in a homemade sweet and sour sauce

Ahi Tuna Wraps

Sushi grade tuna, seared and drizzled with Ponzu sauce and served in a Bibb lettuce leaf

Mexican / Spanish

Taos Pinwheel

A delightful mix of smoked turkey, black beans, roasted red peppers, Jalapeno jack cheese and fresh arugula layered in a flour tortilla, rolled and sliced served with black bean & corn salsa

Duck Quesadillas

Flour tortillas filled with shredded duck, black beans and spices. Served with salsa & guacamole

(Four week notice required)

Amerillo Ceviche Mixto

Scallops & shrimp tossed in roasted Peruvian amarillo aji, lime & lemon juice, cilantro and diced peppers

Vegetarian Based

**Caesar Salad in the Vertical!!

A unique presentation and fun topic of discussion for your guests! Made with our own Caesar dressing and served in a cup with a 'long crouton' and parmesan tuile

Fresh Fruit

An array of fresh, seasonal fruit (Recommended when in season.)

Crudités

Fresh vegetables, lightly blanched / grilled and served with a flavourful dressing

Selected Cheeses

Please specify imported or domestic; served with select crackers

**AE&C House Garden Salad

Baby greens tossed in our own Strawberry-Balsamic Vinaigrette, sprinkled with Gorgonzola crumbles and candied pecans. A culinary treat for your taste buds!

Caesar Salad

Made with our own Caesar dressing and served in traditional style with homemade croutons

Stuffed Creminis

Spinach, Bacon & Feta

Piped with Garlic Mashed Red Potatoes, Rosemary & Parmesan

Vegetable Station

Assortment of vegetables as follows: Cherry Tomato BLT's, Endive Scoops with Avocado Relish, Grilled Asparagus, Snow Peas and Carrots with Asian Dipping Sauce, Piped Celery Chevrons, and Roasted Red & Yellow Pepper Sticks

Back to Basics

The Deli Lunch Tray

Assorted cuts of roast beef, ham & turkey. Mini rolls and condiments provided to allow the guest to 'create their own sandwich'.

Add on Wraps

Add on Assorted Cheeses & Spreads

Add on Assorted Vegetable Condiments – lettuce, tomatoes, onions, peppers & olives See the lunch menu to add on various salads etc.

Sweet Endings

**The Chocolate Fountain **

Streaming with warm Belgian chocolate in the flavour of your choice of white, dark or milk chocolate, this flowing indulgence is served with your choice of accompaniments. $325 Rental Fee includes a two hour rental, napkins, skewers & plates. Choose a minimum of five different dipping items for this desert. Priced according to the individually selected menu, availability of fresh product etc. For 50+ guests.

**Petit Sweets

Chocolate covered strawberries (when available), French pastries, Petit Fours, mini assorted cheesecakes. Can include miniature tartlets, biscuits and other assorted appropriate desserts.

Selection of Chocolate Covered Strawberries

White chocolate, dark chocolate, tuxedo, almond, coconut, orange essence, cocoa, silver or gold dusted

Coffee/Tea Service

Special imported Italian coffee for this service – all appropriate condiments supplied

** Denotes signature item and presentation of Alaskan Events & Catering, LLC
Hors d' Oeurves
Traditional Bar

Un Bouchée of Angus Roast Drizzled w/ Horseradish Sauce & Laced with Water Cress

Filo Purses of Fig & Mascarpone Cheese

Un Bouchée of Sonoma Style Chicken (with red grapes, special seasonings & almonds)

Cucumber Shooters of Gazpacho & Speared Shrimp with Bamboo Knot

Canapé Dinghy' of Smoked Salmon Mousse with Fresh Dill (served in the boat style of canapé)

Tomato Bisque Flute with Mini Grilled Cheeselets (passed only)

Mediterranean Bar

Antipasto Tray (Buffalo Mozzarella, Soppressata, Genoa, Marinated Mushrooms, Artichokes & Sun Blushed Tomato Slivers)

Trio of Olive Tapenade & Savoury Puff Pastry Roulades

Tuscany Filo Cups with Chiffonade of Fresh Basil

Mini Gyros with Fresh Tomato & Tzatziki Sauce

Fondue Bar

Assorted Dipping Sauces of Red Pepper & French Brie / Spinach & Gruyere / Saffron & Fontina

Asparagus, Breadsticks, Artichokes, Celery, Baby Carrots, Cucumbers, Bell Peppers, Tri-Colored Tortellini (suitable for vegetarians)

Pan Asian Bar

Sesame Crusted Alaskan Sockeye Salmon w/ Japanese Miso Vinaigrette & Scallion served on 'glass' square mini plate

Mini Asian Spoons of Beef mixed in Lemon Grass~Soy~Ginger~Wasabi Sauce, Pineapple & Cilantro (Served on an edible spoon, neutral flavoured-base short dough)

"Knotted' Bamboo Chicken, Oriental Asian Slaw & Mandarin – served in the bamboo boat with bamboo tongs

'Tower' of Ahi Tuna Ceviche Drizzled with Ponzu & Radish Sprout Garnish

(Recommend that these be individually placed on a small the mini square plate.)

Market Price

Katchemak Bay Oysters on the Half Shell

Chilled with Pickled Ginger-Pepper Vodka Sorbet or Classic Mignonette

Market Price

Skewers of Italian Prosciutto & Honey Dew Melon

Italian Sauté

Selection of Assorted Red, Orange & Yellow Bell Pepper, Yellow Squash, Zucchini, Sweet Onion

Marinated in a dark balsamic & olive oil blend and grilled

Croustades

Similar to the Crusting – mini savoury style shell filled with your choice of flavours:

Swirl piped with a Sun Blushed Tomato and Basil Pesto Cream Cheese,

Gorgonzola Cream Cheese with Red Grape & Walnut Dust,

Chiffonade of Romaine, Caesar Dressing & Reggiano Shaving / Tuile

Boursin Cream Cheese with Pear Slices & Frangelica Reduction

Crostinis

Fresh Spinach & Gruyere

Feta, Tomato & Onion Confiture

Wild Mushroom Pâté

Classic Ratatouille with Eggplant & Capers

Cantaloupe & Basil Sorbet

(as an intermezzo between the lighter hors d' oeuvres)

Alaskan Sockeye Salmon

Smoked Alaskan Lox Wrapped in Fresh Asparagus Spears, Fresh Lemon & Cracked Pepper

Foraker Style; Served with a Tomato-Dill Relish over Butter Leaf Greens

Salmon Cakes with Lemon Grass, Cilantro and a Lemon Chive Aioli

Sesame Crusted, Seared and Served with Miso Vinaigrette

(May be served on the individual cedar plank)

Laced with Ginger~Soy & Maple Glaze over Soba noodles & Baby Bok Choy

(May be served on the individual cedar plank)

Fresh Alaskan Halibut

Olympia Style; Seasoned and baked till moist and tender

Beignets of Alaskan Halibut with Lemon~Dill Aioli

Mini Fillets of Poached Halibut in Pernod Sauce with Tomato-Fennel Relish

Macadamia Nut Crusted over Indian Curry Sauce Mango~Papaya Chutney
Buffet Dinner
Dinners are served complete:

Please select two menu items for dinner. Rolls/breads and butter/dipping oils and a choice of salad being the dinner service. Starch and vegetables are also included with the selected entrée choices. This complete dinner is finished with choice of dessert, tea & coffee service. Please note that all items are based on availability

Salads

Mixed Baby Greens; (select preference)

Tossed in our own Strawberry Balsamic Vinaigrette & Candied Pecans, gorgonzola crumbles & dried cranberry. (This is our house salad and ordered more often than any other choice.)

Roasted beets and orange Supremes dressed with thyme and roasted shallot vinaigrette over

Grapefruit Supremes, Manchego shavings with rosemary walnut vinaigrette

OR

Traditional Caesar with Grana Padano Cheese and croutons

Bleu with bleu crumbles, orange candied walnuts, bacon & fresh apple slivers

Tossed in Roasted Tomato~Shallot Vinaigrette, Pine Nuts & Manchego Cheese Shavings

Fresh pear slivers, candied walnuts, balsamic vinaigrette & goat cheese crumbles

Tossed in warm fig vinaigrette, Fuji apple slivers, feta and roasted pine nuts

Sides

Red mashed potatoes with garlic & chives

French Au Gratin Potatoes with Gruyere Cheese and heavy cream

Pommes Anna

Garden Rice Pilaf with mixed vegetables

Jeweled Rice of mixed bamboo and wild rice, baby split lentils, daikon radish seeds and wheat berries

Orzo Pasta in Parmesan, Black Pepper & Lemon

Yellow squash, red bell pepper, carrot & red onion in herbs d' Provence

Asian Vegetables sautéed in Wasabi dust and fresh soy, ginger

Squash boats with diced vegetables and parmesan cheese

Boursin Risotto * Requires full kitchen facilities

Ginger Glazed Baby Carrots with Red Pepper Slivers

Balsamic slacked vegetables, grilled and sprinkled with sea salt

Chicken

Evil Jungle

Breasts of Chicken in lime, coconut, lemon grass and fresh basil served with rice

Chicken Marsala

Braised chicken with fresh mushrooms, herbs and Marsala wine

Chicken Calvados

With wild mushroom brandy cream sauce

Cordon Bleu

With ham, Swiss cheese and béchamel sauce

Marinara

Fresh basil tomato base

Stuffed Breast

Of sage, apple & Prosciutto and sherry cream sauce

Beef

Swedish Meatballs

Traditionally created in béchamel cream sauce

Meatballs

Hawaiian style, marinara or other available choices

French Bœuf bourguignon (or beef Burgundy)

Traditionally created with carrots, potatoes and onions in succulent beef sauce

Beef Stroganoff

In a rich cream sauce with onions & mushrooms over pasta

(Specify if to be prepared with filet mignon)

Filet Mignon

Petit filet served with a wild mushroom and green peppercorn Demi-glace OR with Bleu & Dried Prosciutto Crumbles in Red Wine Demi

Marinated Flank Steak

Roasted tender flank steak in a light marinated ginger-soy or Tuscan style with fresh rosemary & lemon

New York Steaks

Tender juicy steaks, marked and roasted to perfection

Prime Rib

Tender, juicy and cooked to perfection, served with classic Au Jus and horseradish

Seafood

Planked Asian Style

Sesame Crusted with a Ginger Soy Miso Vinaigrette **Denotes Allergy; Contains soy product

Fresh Alaska Salmon on Cedar Plank

Grilled on site and served on the plank, pesto drizzle & fresh cherry tomatoes

Pepper Crusted Salmon

Baked and served with Alaskan Birch Syrup Sauce

Halibut Olympia

With shallots, white wine & butter

Herb Crusted Halibut

Baked and served with a butternut squash sauce

Seafood Risotto

Tuscan style dish with nana rice, wild mushroom, red onions, scallops, shrimp and crab

Prawn Pasta Puttanesca

Penne pasta tossed with Caponata of fresh tomatoes, onions, garlic cloves, olives & capers. (Maximum of 50)

Shrimp with Tomatoes and Feta

Jumbo shrimp simmered with white wine, tomatoes, fresh herbs, and feta cheese with pesto sauce

Pork

Tenderloin Pork Medallions

Slowly braised in a ginger curry peach sauce

Roast Loin of Pork

Seasoned and served with a fig bourbon reduction (subject to fig availability)

Medallions of Pork

Over sliced apples & fresh rosemary

Spiral Glazed Ham

Served with an apricot bourbon sauce

Vegetarian Alternatives

Garlic & Thyme Polenta

With braised spinach, roasted wild mushrooms, a chunky tomato basil Coulis and freshly shaved parmesan

Eggplant Lasagna

With carrot, mushrooms, onions, tomatoes and squashes served with béchamel sauce

Samosas

Of Curried Vegetables over cous cous with ginger fruit chutney

Penne Pasta

With Artichokes, Tomatoes, Hearts of Palm (when available) and Caponata, tossed in Béchamel Sauce

Desserts

Classic Cheesecake with fruit Coulis and fresh whipped cream

Galette of fresh fruits or mixed berries, fresh cream

Chocolate Cheesecake with toffee crunch, chocolate sauce and vanilla bean cream

Mountain Berry Flan dusted with powdered sugar

Traditional Carrot Cake with Walnut Whipped Frosting

Hazelnut Chocolate Torte, flourless

Chocolate truffle tort lets

Fresh Fruit Tarts with Passion Fruit Custard

(Limited number, additional charges apply)

Martinis of White Chocolate Mousse

Fresh Fruit Martinis with 'Six Grapes' and Vanilla Bean Cream

Chocolate Mousse Pyramids with Crème Anglais

Selection of Chocolate Covered Strawberries, Dark, White, Coconut, Almond, and Orange Essence (recommended when seasonally available)

PLEASE NOTE** THIS IS ONLY A VERY SMALL OFFERING OF OUR MENU SELECTIONS!! PLEASE CONTACT US IF YOU HAVE A SPECIFIC REQUEST, THEME PARTY OR ??
Dessert
Assorted Fresh Cookie Tray

Fresh Fruits

Root Beer Floats

**The Chocolate Fountain **

Streaming with warm Belgian chocolate in the flavour of your choice of white, dark or milk chocolate, this flowing indulgence is served with your choice of accompaniments. $325 Rental Fee includes a two hour rental, napkins, skewers & plates. Choose a minimum of five different dipping items for this desert. Priced according to the individually selected menu, availability of fresh product etc. For 50+ guests.

**Petit Sweets

Chocolate covered strawberries (when available), French pastries, Petit Fours, mini assorted cheesecakes. Can include miniature tartlets, biscuits and other assorted appropriate desserts.

Selection of Chocolate Covered Strawberries

White chocolate, dark chocolate, tuxedo, almond, coconut, orange essence, cocoa, silver or gold dusted

Coffee/Tea Service

Special imported Italian coffee for this service – all appropriate condiments supplied

The Dessert Bar Collection

(May include) Sever Layer, Raspberry, Chocolate Chip, Chocolate Raspberry Tango, Macadamia Decadence, Butterscotch Brownie, Oatmeal Cranberry, Lemon

Cake Flavours

Blueberry or Swirl

Butter Pecan

Carrot

Cherry Chip

Cherry Swirl

Chocolate

Chocolate Cherry Swirl

Chocolate Fudge

Chocolate Mint

Chocolate Mocha

Chocolate Orange or Raspberry Swirl

Chocolate Rum

Coconut

German Chocolate

Grape Swirl

Lemon

Lemon Swirl

Lime Swirl

Marble

Mixed Berry Swirl

Orange

Orange Swirl

Pineapple Swirl

Pink Champagne

Pumpkin

Rainbow Chip

Raspberry Swirl

Red Velvet

Spice

Strawberry

Strawberry Swirl

Sugar-Free White

Sugar-free Chocolate

Sugar-Free Banana

White

Vanilla

Cake Fillings

Apricot

Bavarian Cream

Blackberry

Blueberry

Cherry

Chocolate Bavarian Cream

Lemon

Mixed Berry

Peanut Butter

Pineapple

Raspberry

Strawberry

Strawberry Lemon

** Denotes signature item and presentation of Alaskan Events & Catering, LLC
The Chocolate Fountain
34" of Streaming Warm Chocolate to indulge your guests

58% Dark Cacao Berry Imported Chocolate Or Choice of White Chocolate

$349 for a two hour rental includes the first 15# of chocolate & attendant

$25 per hour additional hour for attendant

$36 p/5# additional chocolate

Please ask about flavoured/coloured chocolate possibilities.

(Alternatively: Please Inquire About the Chocolate River Too)

Choose from a variety of different dipping items; price is dependent on menu items chosen and seasonal availability of fruits etc.

Sweets Menu

Wafers

Pound Cake

Lemon Bars

Nut Sandies*

Biscotti

Marshmallows

Pretzels

Brownies

Leathers

Piroulines

Shortbread

Caramels

Animal Cookies

Molasses Drops

Macaroons

Vienna Fingers

Meringue

Peanut Butter Cookies*

Graham Crackers

Maraschino Cherries

Caramels

Mini Cheesecakes

Snickerdoodles

Mini Doughnuts

Éclairs

Oreos

Candied Ginger

Lady Fingers

Cranberry Conundrums

Crème Puffs

Krispie Balls

Fresh Fruits Menu

Strawberries

Grapes

Peaches

Mango

Pineapple

Cantaloupe

Nectarines

Papaya

Apples

Honeydew

Kiwis

Watermelon

Oranges

Cherries

Bananas

Mandarins

Dried Fruits Menu

Pineapple

Papaya

Apple

Apricot

Banana

Mango

The 'Foodji' Palm Tree is also available for display of dipping items…

ALTERNATIVELY: PLEASE INQUIRE ABOUT THE CHOCOLATE RIVER TOO

Requirements:

Access to 120V electrical power is necessary for the fountain. The fountain requires a level surface. Outdoor use is not recommended to due to flying insects and to keep the temperature of the chocolate liquid enough for cascading.

General Information

* Denotes the item that includes nuts and or nut based oils. Careful consideration of serving these items should be reviewed due to high rate of allergies within the general population. Setup of the fountain requires access to the location a minimum of two hours prior to the start of the event. Serving ware (napkins, plates & skewers) are provided with the fountain and is based upon the number of guests attending. Delivery is $50 for clients in Anchorage, Willow & Talkeetna; $35 for Eagle River / Peters Creek / Chugiak areas. All other areas, please inquire regarding delivery fees.
Beverages & Punch Options

Strawberry Bomb Lemonade*

Green Apple & Strawberry Dance

The Strawberry Bomb*

An Orange Dream-sickle

Strawberry-Colada Beach

The Beach Mix Up (Pineapple, Colada, Mandarin, Passion Fruit & Mango)

Banana, Strawberry, Cherry Toss

The Peachy Blueberry

Blueberry Mango Mania

Wild Berry Punch

Wild Orange Passion Fruit

Confused Citrus Conundrum*

Peach & Mango Tropical Tango

Sangria (non-alcoholic)

Iced Teas: Raspberry Darjeeling, Hibiscus, Texas Mint

Orange Pekoe & Pink Grapefruit

Classic Lemonade or Limeade

Jasmine & Orange

Tropical Island Punch

The Elixir Collections (Best mixed with champagne.)

Damascan Rose*

Andean Fire Orchid

Antillean Hibiscus

English Lavender

* Denotes most popular requested items
Picnics & Barbeques
Summer is almost here again! Think about booking your office picnic now before the best dates are all gone.
Entrees

Angus Beef Burgers or Cheese Burgers

Southwestern Angus Burgers with Chipotle-Ranch sauce & Jack Cheese

Veggie Burgers

Reindeer Dogs

Grilled or Barbecued Chicken

Bratwurst

Polish Sausage

Barbecued Brisket of Beef

BBQ Pulled Pork

BBQ Ribs

Grilled Sirloin Steaks

BBQ Sauces include: traditional style, honey-mustard, root beer, raspberry, honey

Side Dishes

Assorted Pasta Salads: Tuscan Penne Pasta, Greek Antipasto, Talkeetna Tortellini

Potato Salads: Classic, Red Potato, Sour Cream & Dill, Blue Cheese

Spicy Deviled Eggs

Maple Baked Beans & Smoked Bacon

BBQ 'Onion Steaks'

Carrot & Cabbage Coleslaw

Corn on the Cob with Chive Butter

Beverages

Lemonade with Berry Ice

Texas Mint Ice Tea

Tropical Island Punch

Bottled Waters, Assorted Soft Drinks

Dessert

Assorted Fresh Cookie Tray

Fresh Fruits

Root beer Floats

The Dessert Bar Collection: Seven Layer, Raspberry, Chocolate Chip, Chocolate Raspberry Tango, Macadamia Decadence, Butterscotch Brownie, Oatmeal Cranberry, Lemon
Platinum Wedding Menu
Choice of 1 Appetizer

Assortment of Domestic & International Cheeses

adorned with choice of fresh seasonal fruits or mixed olives with array of crackers & lavosh

Alaskan Smoked Salmon Mousse

served with bermuda onion, capers, fresh lemon and selection of crackers

Alaskan Reindeer Sausage (Mild & Medium)

with pommery dipping sauce

Artisan Breads or Fresh Dinner Rolls

with butter balls

Artisan Breads

Choice of 1 Salad

Traditional Style Caesar Salad

with garlic croutons & parmesan cheese

Baby Greens Spring or Fresh Spinach Salad

with gorgonzola crumbles, candied pecans, dried cranberries and tossed in house strawberry balsamic vinaigrette

Array of Fresh Grilled Vegetables

finished with avocado oil and dusted with sea salt

Choice of 1 Side Dish

Creamy Garlic Mashed Potatoes

Eclectic Jewel of Rice

green bamboo & wild rice, daikon radish seeds, wheat berries, amaranth, baby split lentils & peas

Baked Potatoes

with butter, sour cream, scallions & bacon bits

Choice of 2 Entrees

Open Faced Chicken Cordon Bleu

imported prosciutto & provolone & triple cream cheese sauce

Grilled Chicken Breast

with marinara sauce, fresh basil & mozzarella

Alaskan Red Salmon

poached in court bullion, with tzatziki sauce of cucumber, garlic & lemon

Sesame Seed Dusted Alaskan Red Salmon

with miso ginger vinaigrette & scallions

Prime Rib of Angus Au Jus

(requires your rental of carving station)

Grilled Angus Beef Sirloin Steaks

with sautéed onions & mushrooms

(No Service - par cooked, requires your final grilling on site)

No Service - starting at $ 80/guest*

based on 50+ guests

Full Service – starting at $ 114/guest*

includes complimentary coffee and water service

based on 50+ guests

Includes all disposable dishes and paper ware for guest use.
Gold Wedding Menu
Artisan Breads

with butter balls

Baby Greens Spring Salad

with gorgonzola crumbles, candied pecans, dried cranberries, tossed in house strawberry balsamic vinaigrette

Grilled Select Seasonal Summer Vegetables

finished with olive oil & seasonings

Choice of 1 Side Salad

Bacon & Sour Cream Potato Salad

Tuscan Caponata Potato Salad

Greek Pasta Salad

Veggie & Rice Twist Salad

Asian Noodle & Vegetable Salad

Choice of 1 Chicken & 1 Salmon Entree

Evil Jungle Prince Chicken Breast

with coconut, lemongrass & ginger sauce

Masala Style Chicken Breast

with Masala wine & garlic cream mushroom sauce

Fresh Grilled Alaskan Poached Salmon

with fresh lemon & cracked pepper

Fresh Grilled Alaskan Poached Salmon

dusted with dill & fennel pollen and served with a lemon garlic aioli

No Service - starting at $ 49/guest*

based on 50+ guests

Full Service – starting at $ 67/guest*

Includes complimentary coffee and water service

based on 50+ guests

Includes all disposable dishes and paper ware for guest use.
Silver Wedding Menu
Fresh Baked Dinner Rolls & Butter

Traditional Green Salad

croutons, choice of balsamic or buttermilk ranch dressing

Choice of 1 Side Salad

Garden Pasta Salad

Mixed Bean Salad

Traditional Potato Salad

Tortellini & Veggie Pasta Salad

Choice of 2 Entrees

Chicken Tetrazzini

penne pasta with cream, bacon & garlic

Swedish Meatballs

with fruit chutney

Medallions of Savoury Pork

with apple slaw & strawberry cranberry chutney

Barbecue Pulled Pork Sliders

with potato rolls and coleslaw

No Service - starting at $ 36/guest*

based on 50+ guests

Full Service – starting at $ 44/guest*

based on 50+ guests

Includes all disposable dishes and paper ware for guest use.